Investing In The Walt Disney Company - It's A Small World After All
Updated: May 6
Investing In Disney Means All of Disney
I'm in Disney World this week taking a holiday with my wife, so I thought this would be an excellent time to dive into the House of Mouse and take a look at how they make so much money. On Monday, I told you guys about the secretive Club 33 that costs $100,000 just to walk in the door, and on Wednesday I unveiled the exclusive residential neighborhoods of Golden Oak.
Today, I want to spend some time on Disney itself: how it started, how it makes money, and where it could be headed next to see if this company is worth your hard earned investment dollars. Let's go!
Related: Inside Disney's Exclusive Club for Millionaires
Top-Line Numbers:
FY 2020 Revenue: $65.39 billion (-6,06% YoY)

FY 2020 Net Income: -$2.86 billion (-125.91% YoY)

Fiscal Q3 2021 Revenue: $17.02 billion (+44.51% YoY)

Fiscal Q3 2021 Net Income: $918 million (+119.45% YoY)
Walt and Mickey
How Did The Walt Disney Company Get Started?
The Walt Disney Company was officially founded on October 16, 1923 by *gasp* Walt Disney. Originally founded as "Disney Brothers Cartoon Studio" (catchy), they wisely changed the name a couple of times until "The Walt Disney Company" name was formalized in 1986.
Walt and his brother Roy were animators, with Walt located in Kansas City and Roy located in Hollywood. After Walt's original company, "Laugh-O-Gram Studio," went bust, he packed up and moved in with Roy, but not before producing one final piece of content: a short-film entitled Alice In Wonderland. The film was purchased by M.J Winkler Productions, with the studio commissioning an entire series of Alice-themed I.P at $1,500 per reel. This led to the founding of the original "Disney Brothers Cartoon Studio," and, after a few missteps, the company was off and running.
Want to get up to $200 in FREE shares, including Disney? Sign up for a new account with my link and our partners from Robinhood will gift you a free stock, all the way up to $200!
Oswald is back on Disney+ (c/o What's On Disney Plus Blog)
One of those missteps? Oswald the Lucky Rabbit, which was animated by Disney but distributed by Universal, who owned the rights to the character and therefore took all the money. Disney produced 27 Oswald reels before the contract was cancelled, nearly bankrupting the brothers. In order to overcome their losses, they devised of a new character: a mouse named Mortimer. Thank god it was suggested by Walt's wife Lillian that they rename it to "Mickey."
The Disney's got to work animating their new character into an animated short-film entitled Steamboat Willie, which was released to critical and commercial success in 1928.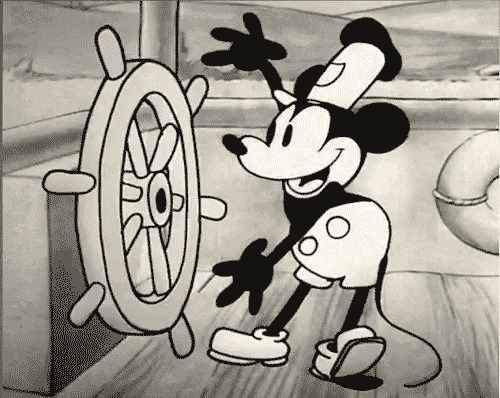 From there, the animation studio exploded, signing an exclusive contract with Technicolor in 1932. The department continued expanding into the 1940's and 1950's (except when their animation department was gutted because the animators all got drafted into World War II), with the company's IPO taking place on April 2, 1940.
15 years later, in 1955, Walt completed his greatest achievement by opening Disneyland in Anaheim, California. 10 years later, he announced plans to open a sister location in Orlando, Florida named "Disney World." Walt passed away in 1965 due to complications from lung cancer, and the corner office was handed to Roy.
What's the Business?
Similar to my piece on Manchester United, Disney is a multimedia conglomerate with so many legs on the stool it's starting to look more like a porcupine. Though the company started with making animated movies, they have now branched into television, streaming, live-action movies, theme parks, merchandise and live television. Let's dive into each part of the business to see why, even despite their parks closing down for most of 2020 due to COVID, they still made nearly $40 billion.
Disney - The Bull Case
If you really want to simplify it down, Disney is in the business of intellectual property, known as "I.P." I.P is the most important thing you can have as a creator, because it provides you with exclusivity. You can take your I.P and continue to monetize it, either through your own means or licensing agreements.
Disney is the absolute champion of I.P these days, drawing both on their historic back-catalog of characters, as well as the characters and topics they've acquired over the last 20 years. The best place to look to see all of this I.P? The theme parks!
Disney Parks, Experiences and Products
In the business segment the company labels as DPEP (Disney Parks, Experiences and Products), Disney currently has 12 different parks, located at six different "resorts." These include the aforementioned Disneyland and Disney World in California and Florida, as well as parks in Hong Kong, Shanghai, Tokyo and Paris. They also have resort-style hotel properties in Vero Beach, Hilton Head Island and Hawaii that round out the real estate portfolio.
These parks (except the last 3) are massive. The Orlando development I'm in right now contains Animal Kingdom, Magic Kingdom, EPCOT and Hollywood Studios, each with their own sub-parks like Star Wars and Toy Story (more on those later), totalling a square footage larger than the city of San Francisco. These parks are able to squeeze money out of every visitor in the following ways:
Disney hotels

Park admission

Merchandise

Concessions
Normally, I wouldn't look at concessions as a main income source. However, having been to Disney recently, my credit card needed CPR every we walked out of a restaurant. Combined, all of these accounted for 25% of Disney's total fiscal Q3 2021 revenue, and 13% of their operating income.
The parks division is also a continual work in progress, especially with new CEO Bob Chapek at the helm. Chapek formerly headed up this business segment, and under his leadership, the parks have seen major investment. Prior to his ascension to CEO, the finishing touches were put on the Star Wars sections of the California and Florida parks. Next up was the first major expansion under Chapek - the opening of the Marvel Campus in California, as well as the rebranding of "Tower of Terror" at Disneyland to a Guardians of the Galaxy theme. Good thing, too.
The company's most recent earnings report showed that COVID not only didn't slow down demand for the parks; it may have increased it. The park closures last year led to a net loss of $4.5 billion in the same quarter last year. This year? The company reported a net income of $1.1 billion. Not quite back to normal, but well on the way.
Want to get up to $200 in FREE shares, including Disney? Sign up for a new account with my link and our partners from Robinhood will gift you a free stock, all the way up to $200!
Disney Media and Entertainment Distribution
However, as you can see above, one segment dominates the fiscal landscape for Disney at the moment. This is the "DMED" (Disney Media and Entertainment Distribution) segment, which includes Disney's television ventures. These include Disney Channel, ESPN, ABC, National Geographic and an equity investment in A&E Television, and these channels generate revenue via ad sales. And business for these networks is booming.
Despite ABC being mired in controversy in 2021 over the debacle involving "The Bachelor" franchise and its former host Chris Harrison, the network is still generating record revenues, up almost 16% from last year's figures. Critical I.P for them on these networks also includes "Dancing With The Stars," as well as ESPN's involvement in NCAA and NFL football leagues. The biggest revenue driver in this segment, though? Movies!
Disney is no stranger to big-time movie sales. The rise of the "Disney Princess" culture from the 1950's through today is a testament to Disney's ability to continue branding and I.P to maximum effect. This includes their highest ever grossing princess movie, "Frozen," which was released in 2013 and generated $1.266 billion at the global box office. Despite the clear success of the princess category, however, this is chump-change compared to the work Kevin Feige has done at the Marvel Studios division.
Following the $4 billion acquisition of (most) of Marvel's I.P in 2009, box office receipts alone have returned a staggering $14.4 billion for Disney. This doesn't even include the Disney+ shows that drive recurring revenue subscriptions, which I'll touch on in a bit.
All in all, the Marvel division of Disney is now estimated to be worth around $50 billion. Disney hoped lightning would strike twice with the Lucasfilm acquisition in 2012 for another $4 billion, but that one has achieved much more limited success.
Disney has shown themselves to be rulers of the box office, basically since their animation department was brought back to life under Pixar back in the 1990's. Thanks to the leadership of former CEO Bob Iger, Disney produced 10 of the top 16 highest grossing films of all time, effectively doing battle with James Cameron for ultimate box office supremacy.
And while movies are still a key piece of what Disney is doing in the future, it's the smaller screen they're looking to build up next.
Disney Direct-To-Consumer and Disney+
Disney's DTC segment is perhaps the most interesting value proposition they have moving forward. If you're a regular viewer of any Disney television property, you've likely seen the "Disney Bundle" ads that promote membership in Hulu, Disney+ and ESPN+ for one discounted price. That's because the company is pumping huge resources into the streaming services in order to build out the recurring revenue model that everyone is chasing. It was also their safety net when COVID hit them like a ton of bricks, shutting down movie theaters and theme parks.
Related: Investing in Roku - Streaming's Best Kept Secret?
Turns out, COVID's most minor corporate silver lining possible was the acceleration of Disney's streaming efforts. When Disney unveiled the product in 2019, they set a subscriber goal of 90 million paying subscribers by the end of 2024. Thanks to a combination of strategically leveraging I.P and people developing the world's most aggressive form of agoraphobia, we now sit in October of 2021 at 116 million subscribers and counting. Shout out to Wandavision, Loki, Luca, Soul and random Disney+-specific shorts for that one.
This also hasn't taken into account the massive slate of upcoming shows for the platform, including a Hawkeye show for the holidays and an avalanche of Star Wars content, which is where that series seems to be heading as the movie strategy slows down.
Want to get up to $200 in FREE shares, including Disney? Sign up for a new account with my link and our partners from Robinhood will gift you a free stock, all the way up to $200!
Disney+ isn't the only streaming service making noise, however. ESPN+ is finally starting to make a little bit of progress, increasing their subscriber count by 8% from the prior quarter, sitting now at 14.9 million. While ESPN+ can't offer Disney Princesses and Marvel, it can offer an evolved form of the traditional sporting network. ESPN is getting smarter about which shows to make exclusive to the platform, locking down a lucrative contract with Peyton and Eli Manning to create shows for the platform.
They've also moved into the sports-betting space, leveraging longstanding talent like Mike Greenberg to host gambling-specific content on the platform, as well as roll in new talent on the ground in Las Vegas and striking partnerships with sports-books like Caesar's. It's also taking on new sports for the company, riding the wave of the Premier League's success in the U.S by singing into a broadcasting partnership with the next league down: Spain's La Liga, which began broadcasting on ESPN+ this year, though this partnership was signed one month before Lionel Messi left the league and the overall value of the product tanked.


Related: Investing in Manchester United - Winning Off The Pitch
With major investment into these platforms, including unsung hero Hulu, Disney has seen dividends early. Fiscal Q3 numbers show segment revenue of $4.3 billion for the quarter, up nearly 57% from the same time a year ago. They're also narrowing their losses, down just $293 million this quarter, as opposed to the $624 million they lost in the same quarter last year.
Disney - The Bear Case
Pandemic-based Fragility
As with any company, there are business risks associated, despite the relative size and strength of the company. The first risk here is something I've touched on throughout this whole piece: COVID. The pandemic, while a hopefully-once-in-a-generation life altering event, showed the fragility of parts of Disney's business. The parks fully closed for nearly an entire year, which decimated the bottom line for full year 2020. Movie theaters also closed, as well as most of the production of those movies, which caused the movie business to experience delays and cancellations across the board.
For Disney, this led to a few different issues: an extended delay of several properties, most notably "Black Widow," which Disney ended up finally releasing in a theater and Disney+ "day and date" release, as well as the company being a bit short on cash.
The cash shortage led Disney to temporarily suspend their dividend, weakening the bull case of such a large multimedia conglomerate with seemingly limited growth levers. The "day and date" movie releases also leads us to the next issue Disney has recently run into: PR.
Chronic Foot-In-Mouth Issues
PR can cause a company to sink or swim, almost entirely on its own. "If I was down to my last dollar, I'd spend it on PR" is something mentioned by Microsoft co-founder Bill Gates in the early days of the company. Turns out, Disney is not so great at the whole PR thing, or at least hasn't been in the past 24 months.
The biggest issue they ran into regarding some less than stellar public relations was a lawsuit that stemmed from the above "day and date" release of Black Widow. Star of the movie Scarlett Johansson sued Disney over the release strategy of the movie, stating that part of her pay in her contract was predicated on box office numbers. By releasing the movie both in theaters and Disney+ for home viewing, this ate into potentially box office revenue for the movie, and therefore, ate into Johansson's paycheck. Disney's response to the lawsuit was not exactly in the bridge building business...
"There is no merit whatsoever to this filing. The lawsuit is especially sad and distressing in its callous disregard for the horrific and prolonged global effects of the COVID-19 pandemic." - The Walt Disney Company, via press release
Effectively, the company invoked the horrors of the pandemic in their response for not paying one of their stars the previously agreed on paycheck. While this lawsuit was quickly settled out of court, the damage had been done.
The other issue the company ran into was the handling of the filming of the live-action version of "Mulan" which was released in 2020 to Disney+. Online boycotts for the movie gained steam in 2019 when the star of the movie, Liu Yifei, voiced her support for the Hong Kong police despite "law enforcement's brutal treatment of pro-democracy protesters."
Courtesy of WDW News Today
This gave rise to a fairly short-live hashtag "#BoycottMulan" campaign, which was unfortunately reignited in 2020 upon Disney admitting they filmed various scenes of the movie in the Xinjiang province of China. For those that don't recall, this is the region of the country where the Chinese government allegedly kept up to 2 million Uighur Muslims in concentration camps. While Mulan's release was considered a financial success by grossing over $400 million worldwide, Disney's CFO, Christine McCarthy, did admit that the Uighur controversy "generated a lot of publicity" and could have eaten into the potential box office success of the film, directly affecting the bottom line.
Analyst Downgrades and Limited Future Growth
I mentioned a little bit earlier that Disney is huge, and they are. For a multimedia company, they are operating in every space they can and have seemingly limited remaining growth levers to spur future explosive growth. That sentiment seems to be shared across the investing landscape, as Disney received its first downgrade in three years as Barclays issued a strong statement on the company. The downgrade stems from comments made by CEO Chapek in late 2021 which alluded to a slowdown in Disney+ subscriber growth. Granted, that slowdown is coming down like a base-jumper off of Mt. Everest, but it's still a slowdown.
Barclays also cited the difference in strategies between Disney+ and its competition like Netflix and Amazon. While Netflix and Amazon actually take enormous losses in the name of content creation volume, Disney takes a more conservative approach, developing more limited amounts of content around its existing I.P. "While the company appears to be targeting one new piece of content a week, not every piece of content has the same franchise value or visibility" says Barclays analyst Kannan Venkateshwar. He also noted that Disney's revised subscriber target of between 230 million and 260 million paying subscribers to Disney+ by the end of 2024 seems a little optimistic. To hit this number, they would need to achieve a growth rate of more than double what they're seeing now. Woof.
Finally, where do they go from here? A company that suspends a dividend and won't compete in content volume with their competitors is one that might be a little cash strapped. That's relative, of course, but Disney's primary growth lever has been the acquisition of other content creators. In 2006, they bought Pixar for $7.4 billion. They bought Marvel for $4 billion in 2009, then splashed another $4 billion on Lucasfilm in 2011. The biggest whale they captured was the non-news portion of Fox Entertainment for $71.3 billion in 2019. So is the next move another acquisition? I can't imagine so.


The Bottom Line
Disney is one of those companies that you can yell about all day long with valuation or growth concerns, but it ultimately doesn't matter. The reason why? Warren Buffett's favorite business phrase: a moat. A moat is exactly what it sounds like: it's a competitive advantage over the competition that other competitors either cannot recreate, or can recreate with considerable effort that may not make the effort worth it. In Disney's case, it's their catalog. Try to enjoy Mickey and his friends somewhere that isn't Disney-owned, without going to some sort of Russian knock-off theme park. You can't! Try to see a Marvel movie that isn't owned by Disney. Other than Spider-Man, you can't! Want to ride the Tower of Terror somewhere that isn't Disney World? Good luck. Disney's moat is one of the best in the business, and it's here to stay, and even expand with the inclusion of pretty much every other Marvel character thanks to the Fox merger. I'm a strong believer that investing in The Walt Disney Company should be a foundational part of everyone's portfolios, so I'm long on this one.
Short-term: Long
Long-term: Long
The information in this article is for entertainment purposes only, and should not be viewed as investment advice. Please contact a financial professional for your individual situation. The spouse of this author owns shares in The Walt Disney Company (DIS).